Meet Edmonton Chiropractor Dr. Don Jackson
Sidelined By a Severe Back Injury
A severe back injury sidelined me from playing hockey and football for the season, and it was my Aunt who then referred me to a chiropractor.
Within only a couple of months, I was back to playing the two sports I absolutely loved. It was at that moment when I thought that this would be a great career.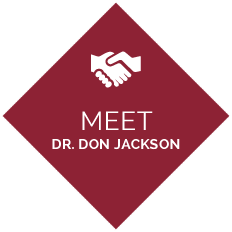 A World-Renowned Education
I began my undergrad studies at the University of Lethbridge and finishing up at the University of Alberta. My chiropractic studies led me to the "fountainhead of chiropractic" in Davenport, Iowa, to Palmer College of Chiropractic, where I received my degree in 1992.
Helping Edmonton Communities Live Life
I practiced in Lethbridge for 10 years when we (Kathy and our 3 kids) literally packed up our bags and moved to Australia. The subtropical climate and living near the ocean was an incredible experience, but after being away for 5 years we felt it was time to move back so we could be closer to our families. It was a very rewarding experience helping people from all walks of life Down Under and I am now excited about meeting and caring for the people in the Edmonton Southwest communities and being dedicated in helping them live life to their fullest.
Ready to get started? Please call today to arrange a time so that we may meet you and discuss your particular health issue.
CONTACT US

---
Chiropractor in Southwest Edmonton | (780) 988-5444