Edmonton Chiropractor Dr. Kathy Jackson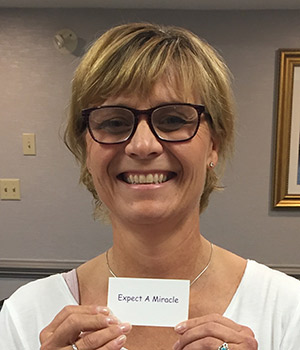 I Wanted to Be a Doctor
"I wanted to be a doctor from the time I could talk" continued Dr. Kathy, but while attending the University of Ottawa, I soon found that medicine wasn't for me. I just didn't see the sense in covering up patients' symptoms with prescription drugs. I wanted to help people get better. So that was it…I dropped out of school (much to my parents' dismay) and took a year off to "figure things out." Well, a year later I had a dead-end job and I still hadn't figured anything out yet. I decided to attend the University of Waterloo, Ontario, and take a Kinesiology degree. This allowed me to take courses in human anatomy and movement and to work every other term in a related field. I thought "surely this will help me figure how I'm meant to help people get better.
I Thought it would Go Away!
One term I took a job with the mentally and physically challenged and while assisting a patient, I hurt my back. I recovered and didn't think about it again… until about a year later when I started to have nagging back pain. So what did I do about it? Nothing! Just like you, I kept thinking it would go away. But it didn't.
Chiropractic Made Sense to Me!
A couple of years later, I took a job with a physiotherapist and started to hear various "chiropractic stories." The one thing that struck me was that regardless of the outcome, chiropractic made complete sense to me! What a simple concept, "Your nervous system controls and regulates every single process in your body. If it's not working properly, neither can you. Correct the interference to the nervous system and the body starts to heal." That was it! I made my first appointment with a chiropractor and within a year I was enrolled at Palmer College of Chiropractic in Davenport, Iowa.
Chiropractic Education
Palmer College had the best reputation in the world and that's where I wanted to learn. Life at Palmer was amazing. I learned not only how to become a great chiropractor, but how so many lives had been changed by seeing a chiropractor. I heard about colicky babies who started to sleep, migraine headaches that went away, people going back to work after years of disability, and the list on. But these were still just stories until I graduated and went into practice.
A Chiropractic Miracle
Since then, I have had the privilege of seeing first hand the "miracles" of chiropractic care. One of my favourites patients is Chelsea. She was oxygen deprived at birth and diagnosed with cerebral palsy. Chelsea was a year old by the time I saw her. She was glassy-eyed with rigid, curled-in hands and a floppy body. She was considered a "vegetable." But her mother still had hope. After the first adjustment, her hands un-curled. After a year, she was smiling and sitting up. Five years later, she is now walking and talking.
"I have the best job in the world…I help people get better!
Call now for a no-obligation consultation.